How to reach the Science Park
Performance 2011 will take place at the Centrum Wiskunde en Informatica (CWI).
Center for Mathematics and Computer Science (CWI)
Science Park 123
1098XG Amsterdam, Netherlands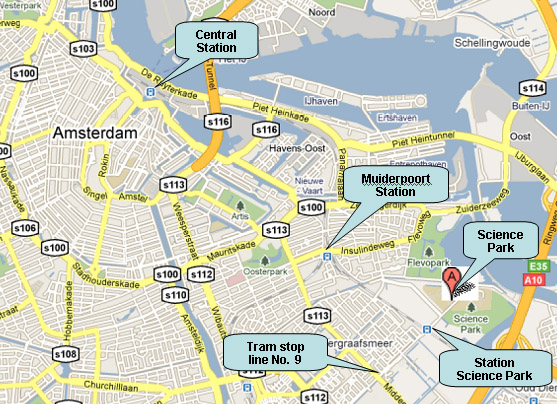 Science Park Amsterdam is situated in the eastern part of Amsterdam, only a short distance from the historic 17th-century city centre. The Park has an urban character, with buildings, landscaping and public spaces all closely interwoven.
The Science Park has excellent access by public transport and road. It has its own railway station "Science Park". Further, it is less than ten minutes from Amstel or Muiderpoort railway station by No. 40 bus, bicycle or taxi. The No. 40 bus runs about every fifteen minutes. All the buildings are no more than 300 metres' walk from one of the bus stops at Science Park.
Alternatively, from the city centre tram line No. 9 can be taken. It stops at the corner of the Middenweg/Kruislaan (see map) about 10 minutes walking from the Science Park.